As a person considering divorce, you might have already seen that lawyers charge around $300 hourly and realized that you will likely need a few thousand dollars to cover your divorce expenses. Such fees look especially unfair when you know that you have to pay a fortune for only having your papers filled out and brought to court.
However, there is a much cheaper solution available for spouses who can and want to settle their issues amicably. They now have a rare chance to print divorce documents from the internet and greatly reduce their costs by doing all the paperwork themselves. By doing this, they can steer clear of extravagant expenditures and keep their divorce costs to only the court fees.
Get Free Do-It-Yourself Divorce Forms
Finding free legal forms online in printable versions shouldn't be a struggle. Therefore, we have collected all the necessary legal documents for uncontested marriage dissolution cases, and you are welcome to download blank divorce papers as pdf files from our website. Once you do, you will only need to print them out, fill in the information about your case, and submit the paperwork to your local court. Although it may require some time and effort to fill everything out correctly, with our DIY divorce forms you can save thousands of dollars you would have spent on attorney's fees.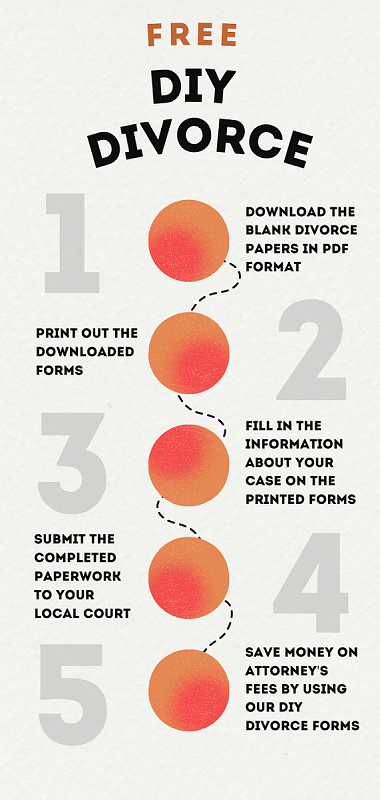 However, if you have no idea what documents or information you may need for your case, aren't entirely sure whether you're providing the right answers to questions in forms, or you just don't feel like diving into this business, you can count on us. Our team of experts will choose the right forms for your individual case and fill them out for you once you pass a quick questionnaire. After that, you will have to simply download divorce papers we've prepared, as well as print, sign, and file them with your local court.
You are welcome to start by completing a free eligibility check on our website's home page and providing us with all the necessary information about your divorce situation. Once, we get a word from you, consider everything set! We will provide you with a full packet of documents for your marriage dissolution along with the filing instructions within a few days for only $139!