The divorce process in Washington state is often long and challenging. However, when you know what to expect and what options are available to you, it becomes much easier to navigate it. Discover the most important facts about getting a divorce in Washington and learn how you can make your marriage dissolution simpler here.
How to Get a Divorce in Washington State?
The basic steps to divorce in Washington are the following:
The first step is completing all the divorce forms. The main form you will need to fill is Petition for Divorce. It has to be filled out by one of the spouses and served to the second one. You can get divorce papers filled out by a lawyer, an online divorce company, or download and fill them out yourself.
The second step is filling the paperwork with the court. According to WA state laws, there are no specific residency requirements that you should meet to file with a certain court. However, you need to make sure it has jurisdiction over your property or children if any.
The third step is serving your spouse. If you file for an uncontested divorce in Washington, your ex-husband or wife will need to sign an Acceptance of Service form acknowledging that he or she has received the paperwork. If your case is contested, there will be much more steps involved and your lawyer will be responsible for the process.
The last step is signing and filing the final divorce paperwork. Once the 90-day waiting period is over, you will be able to arrange a hearing date and visit the court to finalize your case. If your marriage dissolution is uncontested, it will not take much time to get to the end of the process. However, if it is, it might take months or even years.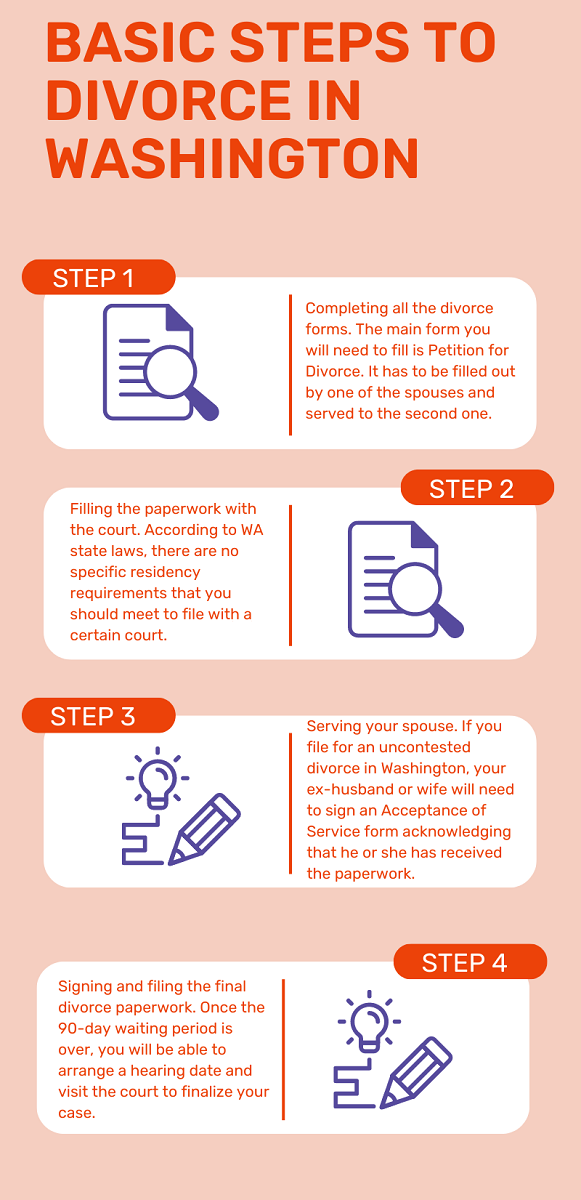 How to File for Divorce in Washington State?
Having decided to end their marriage, Washington state couples have different options: filing with the help of a lawyer, completing a Do-It-Yourself divorce, or working with an online divorce company. Here is a quick overview that will help you choose the most suitable one.
Hiring a Lawyer to File for Divorce
When trying to understand how to file for divorce in Washington state, couples usually receive advice to visit a lawyer. It is definitely the best course of action for a contested divorce, where you will ask a judge to make divorce-related decisions for you and your spouse. In such a case, a lawyer will advocate for you during a trial and help you get the best outcome out of your marriage dissolution. However, if you are planning to have an uncontested marriage dissolution and have already come to an agreement with your spouse regarding it, hiring a lawyer is not a necessity. Therefore, you can save an incredible amount of money by getting help with your paperwork online.
Filing for Divorce Without a Lawyer
Some spouses make a decision to collect and fill out the necessary paperwork themselves. When a divorce is uncontested, trying to save money by not involving a lawyer into the case does make sense. However, is it a good idea to get no help at all? Let's review the two different approaches to dealing with legal documents without a lawyer: a DIY and an online one to find out.
Do-It-Yourself Divorce
A DIY divorce is a popular option among couples who cannot afford to or simply do not wish to hire an attorney. They don't consult with a lawyer or use professional online divorce services, which often ends up costing them a lot of time. First, choosing the most up-to-date forms a marriage dissolution is really difficult since there are dozens of outdated documents available on the Internet. Furthermore, understanding how to fill out divorce papers in Washington State without any legal knowledge takes days of research. If the forms are outdated or some answers given are incorrect, it will be necessary to fill out the paperwork again, which will delay the finalization of the divorce.
Therefore, if you are going for a DIY option, you need to understand what exactly you are signing up for:
First of all, make sure that you are in fact eligible for uncontested dissolution. You and your spouse need to be in full agreement on asset division, childcare, and other aspects of your divorce
Visit the website of the state to look for the divorce-related information. If you have children, check the guidelines on custody and child support calculations. Also, find out if you need to attend any parenting classes.
Find and choose the Washington state divorce forms required for your case. Make sure they are up-to-date, have no watermarks, and there are no mistakes in the questions.
Go through each form carefully and fill it out. It is very important to check any unfamiliar term during this stage as making a mistake would imply refilling the documents all over again.
Check what fields in the forms should be left blank for a court clerk to fill out. Also, before you sign anything, make sure you do not need to do it in front of a notary.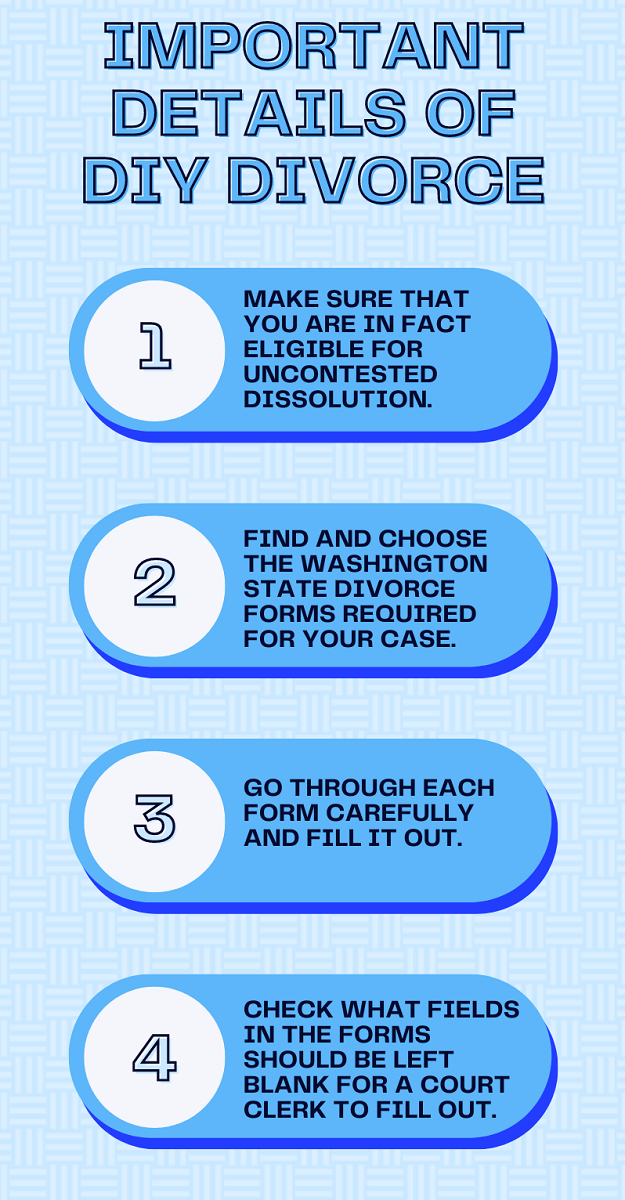 While a DIY option is the cheapest among all the other ones available, it is definitely not the simplest one. Besides, the risks that the paperwork completed this way will not be accepted is rather high. If you do not want to risk it, but would prefer not to spend much on your divorce, the next option is likely what you are looking for.
Getting a Divorce Online
Nowadays, more and more couples apply for divorce online. An online service is a perfect option for those who have agreed on all the divorce-related issues, such as property division, alimony, and child custody and support, and just need their dissolution to be finalized. Although you will still be filing for marriage dissolution yourself, a divorce company will choose and fill out the necessary paperwork for you, so you will only have to print and sign it before submitting it to the court. It means that you will save plenty of time on research and have a guarantee that your legal forms will be accepted by the court.
How Much Does a Divorce Cost in Washington State?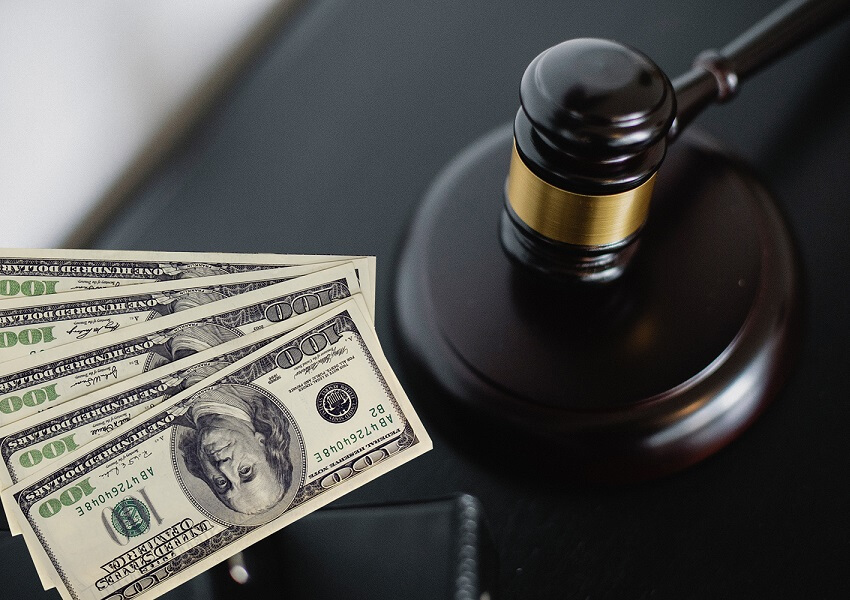 The price of divorce in WA state depends on many factors. First of all, the couple needs to understand whether their dissolution is contested or uncontested. A contested divorce is much more expensive than an uncontested one even when a lawyer is involved in both. Moreover, a lot will depend on the types of disagreements between spouses and what they are ready to agree on.
Average Cost of Divorce in Washington State
The average cost of divorce in Washington state is approximately $13,400. However, if the couple has children, the expenses can reach $20, 000. The costs also depend on such factors as level of conflict, need for property division, alimony requests, lawyer's or mediator's fees, etc. The more complex your case is, the more money you will spend on it.
Traditionally, an uncontested divorce is considered much cheaper and less stressful for all the parties involved. Even if you decide to get a lawyer, you will likely have to pay them about $4,000-$5,000, which is around $10,000 less than in a contested case. However, one of the biggest pros of an uncontested marriage dissolution is that you may choose not to hire an attorney at all. Instead, you may try dealing with the paperwork on your own or get it from an online uncontested divorce service for just $139.
Legal Fees
Unlike in other states, where the fees can reach almost $500, the Washington state divorce filing fees are just $280. However, you might have to cover some extra costs like a delivery service or photocopying. The filing fee for divorce in Washington can be waived only if you can provide proof in court that you cannot afford it.
If you hire a process server, your legal fees will also include a payment of at least $50 for their services. You might also need to hire a home appraiser if you and your spouse have some property division issues, and pay them around $300-$400.
Attorney's Fees
A divorce attorney in Washington State charges between $250 and $285 per hour. The average cost of a divorce attorney is between $10,500 and $12,000 for the dissolution of the entire marriage, while the cost of a mutual divorce will be much lower, averaging approximately $5,000. The most important factor to consider when estimating the cost of legal services is that a divorce will cost more money if there are more issues that need to be decided by a court and an attorney. You can considerably reduce the expenditures if you and your spouse come to an agreement.
| Services | Cost |
| --- | --- |
| Hourly charges | $250 – $285 per hour |
| Entire marriage dissolution | $10,500 – $12,000 |
| Mutual divorce | Approximately $5,000 |
| Court decisions and attorney involvement | Higher cost based on complexity |
| Mutual agreement | Potential expenditure reduction |
Cost of Uncontested divorce
In uncontested cases, spouses have an opportunity not to hire lawyers and deal with the paperwork on their own or with the help of an online service. If you decide to hire an attorney, your divorce costs will be about $5,000 on average even though you and your spouse are in agreement.
If you find and fill out the paperwork on your own, you will only have to pay the court fees, and the overall expenses will likely be under $500. However, if you make a mistake at any point of this DIY process, you will have to file the documents, and spend money on copies and other seemingly small things again, which might slowly mount to a huge sum.
However, if you use an online service, the divorce costs will not be much higher. As we offer the lowest price on the market, you will have to pay only $139 to get a full packet of filled out legal paperwork and a set of filing instructions. Even if you have kids or a lot of real estate to divide, you will not have to pay more to get your forms.
Cost of Contested divorce
The divorce costs in Washington State are the highest for contested cases. As you will need a lawyer to help you with dividing property, assets, or debts and deciding on child support, you will likely spend over $12,000 on their services. As most attorneys charge hourly, the price mainly depends on the number and the complexity of the issues you need to resolve, as it influences the amount of time your lawyer will spend dealing with them. In some cases, the cost of contested divorce in Washington State may reach $20,000 or more.
Apart from lawyers, you may need to involve other experts. Here is the list of services you may also need while dealing with contested case:
| | |
| --- | --- |
| Service | Cost |
| Mediator | $150 to $600 per hour |
| Custodial Evaluator | $ 2,000 and more than $10,000 if private |
| Forensic Accountant | $2,500 to $6,000 |
| Vocational Evaluation and Evaluator's Court Testimony | $5,000- $6,500 |
| Special Master/Discovery Master/ Commissioner | $400-$500 per hour |
| Real Estate/Personal Property Appraiser | $300- $500 one-time payment |
| Private Investigator | $50 to $100 per hour |
| Financial Advisor | $1,500 to $2,500 one-time payment |
Who Can Serve Divorce Papers in Washington State?
After filing the papers for your marriage dissolution, you are legally obligated to provide your spouse with copies of the forms, i.e., "serve" them the paperwork. Please note that you cannot do it yourself, and there are only a few state-approved ways to serve your Ex:
Ask someone over the age of 18 to hand-deliver the copies to your spouse. It can be your friend or relative but not your child.
Hire an expert process server. This will cost you around $50-$60 on average.
If there is absolutely no way someone can hand-deliver paperwork to your spouse, you may ask the court's permission to serve the papers via mail. It will be necessary to deliver copies both by regular and certified mail with return receipt requested.
One of the most frequently asked question concerning the divorce process is how to find out if divorce papers have been served? There are actually two simple ways to make sure that your ex-husband or wife has received the paperwork. First, you can call the court clerk and ask him or her if there was a return of service in your case. Secondly, you may check out whether it is possible to look up the case update online.
How Long Does a Divorce Take in Washington?
The Washington state divorce waiting period is 3 months for uncontested cases. It means that after you file the paperwork with the court and serve it on your spouse, you will have to wait for 90 days to schedule a hearing. Therefore, the sooner you get ready to file your paperwork, the faster you will be over with your divorce.
If your case is uncontested, you will be able to get it finalized during a single hearing, especially if a judge agrees to the decisions that you and your spouse have made regarding your children, as well as assets, debts, and spousal support. However, in a contested scenario, it is quite hard to predict when you are going to get a divorce. As such cases rarely get resolved in one sitting, and it takes time to schedule hearings, it may take a few months or even years to legally end your marriage.
Generally, divorce requires a lot of time and effort. However, with our service, you can save significant amounts of money and file for divorce quickly. We are always ready to give you a helping hand with preparing your documents!